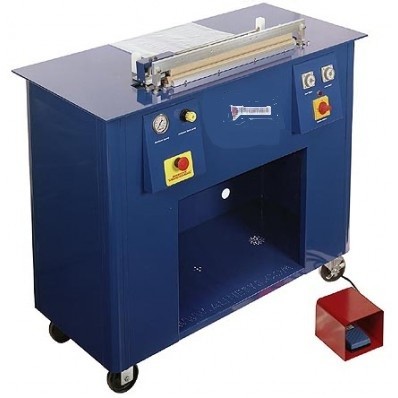 OB SERIES OPEN BACK SEALERS
Standard Features:
Control system: Solid state analog timers
Single heating element on the lower jaw
Seal width: 1/4″
Seal length: 36″
Low pressure safety jaw close system
Footswitch activation
Emergency stop switch
Voltage: 110V / 1PH
All steel frame with a powder coated finish (white)
Options:
PLC/HMI control system
Fully vlidatabe PreciseSeal System
Seal widths to 2″
Longer or shorter seal lenghts
Water cooled seal bars
Built in water chiller system
Anti-tiedown opti-touch switch activation
Other voltages
Many other custom options available

Description
Open Back (S.O.B.) is a heavy-duty thermal impulse sealer built into a solid aluminum and steel frame. This configuration is ideal for any bag making or sealing operation. This unit is ruggedly built for continual operation and economically priced. Each sealer is pneumatically powered and available with either standard impulse controls (Heat and Cool time) or digital controls, fully validate able for medical applications. Our unique cabinet style can be used to store a water chiller or rolls of your film. Each unit is freestanding on lock down casters. Seal lengths are available in 20 or 30 inches with a choice of round wires up to 1/2 inch wide seals. Every sealer is guaranteed to provide an airtight/watertight seal. We also offer a unique cylinder mounted flying knife should you require cutting behind the line of the seal.