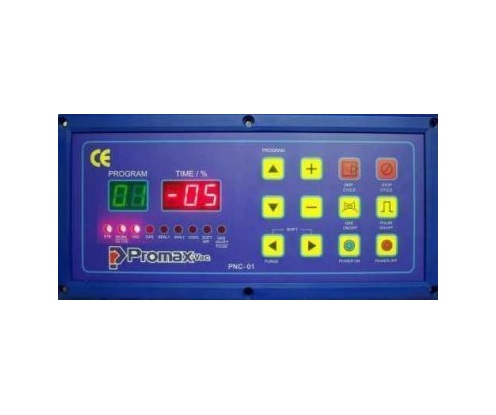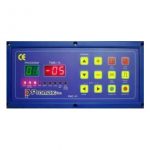 PNC-01 MICROPROCESSOR CONTROL PANEL
Standard Features:
Fully sealed
Moisture resistant (IP-56 rated)
14 program memory
Can control vacuum via time or pressure
Multi-stage vacuum/gas flush

Description
PNC-01 Microprocessor Control Panel
Promarksvac's PNC-01 microprocessor control panel is a fully sealed, water resistant (IP56 rated) that is the standard control panel for all of the DC Series (except DC-530FB) vacuum chamber sealers. The PNC-01 allows the operator to set the vacuum via either time or vacuum pressure. It also allows the operator to set up multi-stage gas flush (if your machine is gas flush equipped), soft air venting, vacuum/hold then vent as well as recipe memory (14 programs)
The PNC-01 can be ordered as an option on any TC, SC or DC machine that comes standard with a PD-01 control panel. It can also be ordered as an upgrade for any machine already in the field and can be easily changed out in the field.
Please note that although the PNC-01 control system allows for many cycle parameters to be set compared to the PD-01 control it is not capable of controlling the seal cycle via temperature in place of time. Promarksvac does offer their Precise Seal system for those customers that require a temperature controlled seal or a fully validate able seal system.