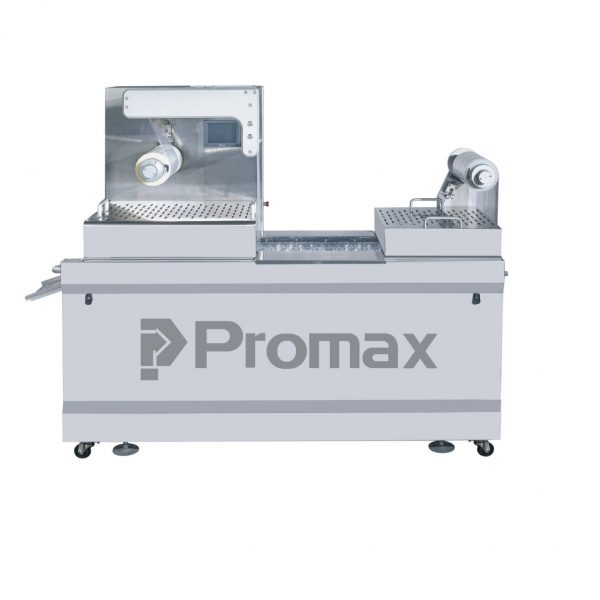 PRS-420 ECONOMY – THERMOFORMING MACHINE
Promarksvac is one of the leading manufacturers of vacuum packaging and processing equipment in the world. We produce and deliver over 1,000 machines each year to over 50 countries. Reliability, durability, and comprehensive service makes our machines the best choice for your production line.

Description
Specification:
Quick compressed air forming
Air cylinders for sealing
PLC/7" Touch screen control
Touch control panel, with user-friendly interface
Cross cut guillotine (1)
Rotating knives (1 set)
Servo motor for chain
5/8" Stainless steel conveyor chain
Roller discharge
Water cooled tooling
Dedicated top and bottom vacuum valves
Protection guard with electronic interlock system
Stainless steel adjustable legs
Busch 63m3/hr pump
Film core: Ø75mm
Top film width: 404(+1,-0)mm
Bottom film width: 422(+2,-0)mm
Film index: 240mm
3 loading stations
Max. forming depth: 80mm
Machine size: 2583 X 1087 X 1725mm
2 independent tool lifting stations
Easy changeover of sealing plates
Welded, stainless steel frame
Stainless steel loading area
Min. bottom film thickness: 150um
Master die forming size: 224 X 382mm
Options:
Trim Rewinder
Auto chain lubricating system
Perimeter sealing
Printing system
Multiple supply voltage
Film index 300mm with 2 loading stations
Motorized exit conveyor
Water cooling chiller
Photo cell for pre-printed film
※Products need to be qualified before suggesting machines and options.
Air, power, and cooling water requirement:
Compressed air: 95 PSI @ 45L per cycle*
Cooling water: 9600 BTU/HR, 30L/min @40 psi (2.8kg/cm2)
Power: 220V/3PH/60HZ/35A