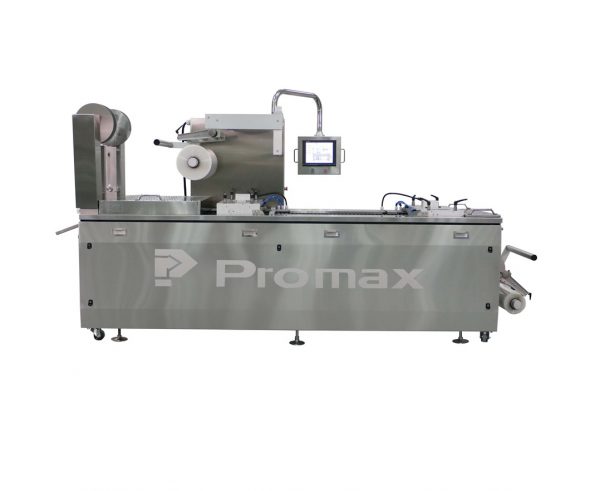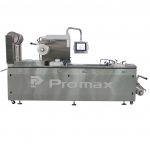 RS-455 THERMOFORMING PACKAGING MACHINE
Standard Features:
Stainless steel frame
Stainless steel loading area
Hinged dies for fast die change
All stainless steel chain with Delrin chain guides
PLC / HMI control system with large 10″ screen
Quick compressed air foorming
Servo drive film transport chain
Mechanical die lifting stations with air rams
Busch RA063 vacuum pump
Digital vacuum monitoring for fast troubleshooting and calibration for medical packaging
Vacuum calibration ports for audits and medical packaging
Please note: Specifications are subject to change without notice

Description
Promarksvac'c model RS-455 thermoforming packaging machine offers an indexing range from 320mm to 540mm and web widths up to 520mm. It can process both flexible and semi-rigid fill with thickness up to 14mil and can provide forming depths up to 120mm. Most of our standard features are options on competitive machines.
The RS-455 can accommodate a wide range of products from liquids and powders to marinated and whole muscle product as well as non-food products. With a wide range of available option the RS-455 can be configured for fully validate able operation for packaging medical and pharmaceutical products.
Specification:
[table id=30 /]